Jobs by Pan-American Life Insurance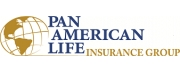 Since 1911, Pan-American Life has been dedicated to being the first-choice partner for top rated life, accident and health insurance and employee benefits for local and multi-national companies, as well as individuals seeking trusted financial security.
Guided by the success and strength of its 100-year history, PALIG has established a track record as one of the most financially sound insurance companies. The company's heritage manifests a longstanding dedication to providing customers with innovative products and services to secure their future.
PALIG employs more than 1,400 worldwide and provides top-rated life, accident and health insurance, employee benefits and financial services in 47 states, the District of Columbia (DC), Puerto Rico, and the U.S. Virgin Islands. The Group's member companies offer individual and/or group life and health insurance throughout the Americas in the United States, Latin America and the Caribbean. The Group has branches and affiliates in Costa Rica, Colombia, Ecuador, El Salvador, Guatemala, Honduras, Mexico, Panama, and 15 Caribbean markets, including Barbados, the Cayman Islands, Curacao and Trinidad and Tobago.
Group Life & Health Insurance
Individual Life & Health Insurance
International Major Medical Insurance
Personal Accident Insurance
Mass Marketing / Micro Insurance
There are currently no available vacancies for this company