Jobs by S M Jaleel and Company Ltd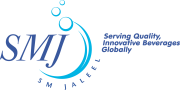 S.M. Jaleel & Company Ltd, founded in 1924, is one of the oldest and largest manufacturers of
non alcoholic drinks in the English speaking Caribbean. Its brands have been household names in the Caribbean for generations, and its products are now distributed internationally in over 60 countries in five continents.

We produce a wide portfolio of beverages which include carbonated soft drinks, exotic fruit juices, purified and flavoured water, energy drinks and fruit flavoured beverages. The company enjoys iconic status as the Caribbean's premier soft drink manufacturer with a reputation for quality, innovation and commercial acumen. Over the years it has pioneered a multitude of innovations in the soft drink industry and prides itself in the use of cutting edge technology, systems and processes in its manufacturing operations. With 25 years of expertise in plastic blowing technology, SMJ uses a wide array of
packaging sizes in Tetra packs, PET bottles and cans. It has the largest state of the art PET blow
molding facility in the Caribbean. In the 1980's, in conjunction with Reynolds Metal Company
(the third largest aluminum company in the world), it was the first in the world to fill fruit juices in aluminum cans using nitrogen technology without the need for artificial preservatives.

S.M. Jaleel has developed an international network of long established mutually beneficial partnerships with customers and suppliers to ensure the continuous availability of high quality products at affordable prices. Through continuous research and development, it has introduced exciting new products on a regular basis over the past 2 decades.

SMJ directly supplies over 45,000 wholesale and retail customers, and its products are consumed each year by millions all over the world. Our brands are shipped to Walmart, and to many other world renowned retailers.

Our company employs a complement of over 2000 employees in 11 countries and provides a workplace environment that is dynamic, fast paced and exciting. Our knowledgeable, competent and committed staff are continuously trained to anticipate and exceed customers' expectations.

We are confident that our unique spirit centered management philosophy will strengthen the partnership with our many stakeholders and continue to enjoy success for many years to come.
There are currently no available vacancies for this company