Delivery Manager
Full time
Posted On 05.21.2019
Expire On 06.22.2019
Employer
Description
Purpose of Job
The Delivery manager will coordinate delivery team members, routes, and budgets to facilitate delivery of products,
materials, and goods. The Manager will report to the Operations Manager and be able to work full hours during days, nights, and weekends.
Essential Functions:

1. Call Centre Metrics
Delivery managers must be able to set objectives, analyze call centre metrics ensuring that the team meets goals and provide measurable, reliable and efficient support to stakeholders.

2. Maintain Budget
Monitor and maintain the annual operational budget for the delivery department/call centre This includes weekly and monthly budget reports to analyze variances initiating corrective actions.
3. Delivery Zones
Establish and create delivery zones for the restaurants including cost-effective distribution plans and efficient routes for deliveries

4. Process Management
Develop process improvement to achieve operational efficiency. Analyze customer orders, set delivery priorities and make schedule adjustments to meet timely delivery goals.

5. Business Development
In addition to contacting potential customers to forge new contracts, negotiate delivery rates for new and external delivery drivers

6. Manage Customer Problems
Manage and track deliveries, as well as address customer complaints to continuously improve customer experience.

7. Software Platform
The Delivery Manager has the responsibility of managing the database, delivery software and build customer information by geographic location etc.

8. Develop System
Maintain and improve the call centre operations identifying, troubleshooting, resolving problems; manage system and process improvement.
Supervision of Personnel:
Call Centre & Delivery Team
Economic Conditions:
Salary will be commensurate with the scope of the post, qualifications and experience as laid out in the contract of employment.
Extended hours are required at times with two (2) weeks holiday per year.
Company Group Health Plan
Travel allowance will be provided.
JOB SPECIFICATION
Knowledge, Skill, Abilities & Other Attributes:
Bachelor's degree in Business Management from a recognized University or related field is essential.
A minimum of two (2) years experience in similar position.
Leadership - the candidate must be able to supervise driver team members and exhibit excellent leadership and management skills
Customer Service - directly address customer complaints and problems, which requires good customer service skills
Communication - strong verbal communication skills to speak to customers and delivery team members daily as well as good written communication skills to create detailed reports
Computer Skills - competent in the use of Microsoft Office Suite
Physical Ability – this can be a physically demanding position, must be able to lift up and stand for long periods at a time during their regular work day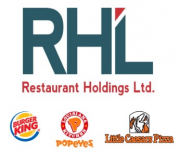 Overview
Restaurant Holdings Ltd
Tags
Customer Support
: Call Center, General-Other: Customer Support-Client Care
Job Requirements
Knowledge, Skill, Abilities & Other Attributes:
Bachelor's degree in Business Management from a recognized University or related field is essential.
A minimum of two (2) years experience in similar position.
Leadership - the candidate must be able to supervise driver team members and exhibit excellent leadership and management skills
Customer Service - directly address customer complaints and problems, which requires good customer service skills
Communication - strong verbal communication skills to speak to customers and delivery team members daily as well as good written communication skills to create detailed reports
Computer Skills - competent in the use of Microsoft Office Suite
Physical Ability – this can be a physically demanding position, must be able to lift up and stand for long periods at a time during their regular work day
Career Advice
Your Recruitment Solution
Your Recruitment Challenges... our Solution How does it work? …
Read More