Jobs by William H. Scott Ltd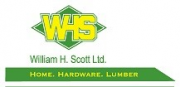 Save this Contact
William H. Scott Ltd
23-29 Independence Square PO. Box 351, Port of Spain
Port-Of-Spain or Newtown , North West
William H. Scott Limited was founded by local entrepreneur William Henry Scott. From a very young age he was determined to be successful and through hard work and perseverance he established the thriving business known today as William H. Scott Limited.

As a supplier of Home, Hardware and Lumber in Trinidad and Tobago since 1924, William H. Scott Ltd has consistently provided materials for all scopes of projects. From simple homes to multistory commercial buildings, WHS has consistently grown into your go to hub for everything Home and Hardware.

With a history that is deeply rooted in Trinidad and Tobago, we are truly Your Home and Hardware…. Since 1924.
There are currently no available vacancies for this company