Jobs by TRICON Company Limited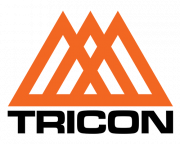 Save this Contact
TRICON Company Limited
Churchill Roosevelt Highway, Tunapuna, Trinidad & Tobago, West Indies
Macoya or Trincity , North East
Trinidad Concrete Products Company Limited is a third-generation family-owned and operated manufacturing establishment, registered in 1933 in Trinidad and Tobago.
For over 85 years, the company has manufactured products for the construction industry, being the first factory of its kind to produce concrete blocks, and later concrete floor tiles, drainage pipes and other precast items. The company ventured into the production of PVC pipe in the early 1970's, and today, the manufacture of PVC pipes and fittings is its core business.
To eliminate the conflict in the consumer's mind between the 'Concrete Products' name and its PVC products, the Company needed to rebrand. The name TRICON was born and the trademark with the notable triangular logo, which was originally created for the PVC pipe, has since become the symbol of the company.
Growing slowly to become a stable, profitable, mid-sized manufacturing company, the organisation has been able to establish itself as a business recognised for its product quality and reliability. In support of its pursuit of excellence, the Company was certified to the ISO-9001 standard in 2004. Its products are manufactured to international standards to meet the requirements of a diverse client base throughout the CARICOM region.
With the transition of management to the third family generation, in 2015 the organisation was restructured into an administrative holding company, reverting to the name Trinidad Concrete Products Co. Ltd, and a wholly owned manufacturing subsidiary known as TRICON Company Limited. The operation supplies the market through a network of distributors who service the various industry sectors and with whom strong partnerships are developed.
What started as the values of one of the founding families has turned into a company-wide credo that guides and empowers every employee – we believe in the sanctity of work and the pursuit of excellence, finding joy in working together. The Company strives to serve the common good of the community and in particular the people it employs by sustaining a profitable and viable work environment that allows people to gain opportunities for the enhancement of their abilities and the attainment of a better life.
There are no postings meeting the criteria you specified